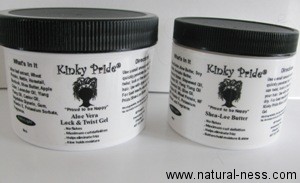 Coco & I have been on a forced hiatus from the site for a week; we've been very busy.  Thanks for your patience!  I can't promise that updates will come much faster, but please bear with us, we will continue to create new videos and posts as time allows.
Below is my demonstration on creating a rope twist-out along with my review of Kinky Pride's Shea-Loe Butter and Aloe Vera Lock & Twist Gel. These products were not purchased by me, but were sent to me after I contacted the co-owner and asked her if I could review her product. I fell in love with the Kinky Pride products after they were demonstrated on my hair at the Tennessee Natural Hair expo. You can see that video here:http://www.youtube.com/watch?v=2iva8Wsy4NE
Kinky Pride products can be purchased here:http://snonatural.com/products/products.html  (see ingredient list below the video)
Ingredients List:
Kinky Pride Shea-Loe Butter – Shea butter, aloe butter, soy butter, avocado butter, almond butter, grapeseed oils, rosemary oils, ylang ylang oils, peppermint oils, olive oils, jojoba oils, wheat protein, nf wax , vitamin E, fragrance
Kinky Pride Lock & Twist Gel – Aloe leaf extract, wheat protein, nettle, horsetail, apple cider, lavender, ylang ylang, castor oil, vegetable glycerin, vitamin E, potassium sorbate, fragrance.