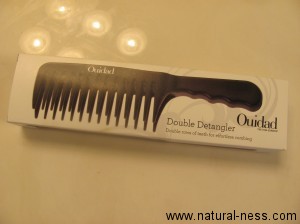 Description from Ouidad website:
Double Rows of teeth eliminate difficult knots and prevent curls from springing back and re-tangling.
Longer Teeth reach through the most dense curly hair.
Fewer Combing Strokes help curls remain defined and frizz-free.
Spaced teeth are just the right width for detangling knots.
Rounded Tips on teeth are soft on the scalp.
Time Savings since curls are prepped to be styled or washed in half the time.
Products Used:
Creme of Nature Shampoo, Detangling Conditioning, Sunflower & Coconut, 15.2 oz.
Creme of Nature Leave-In Creme Conditioner for Dehydrated Hair, Lemongrass & Rosemary, 8.45 oz.
Product Review:
I loved using the Ouidad Double Detangler on my hair. I always had easy to detangle hair but I still couldn't stand the detangling process. The Ouidad Double Detangler glided through my hair with ease and got rid of my toughest tangles. It only took me about 15 minutes to detangle (14:54 to be exact) which is a lot quicker than normal. Plus, usually after I detangle my hair I have to sweep up little beadie beads that have fallen to the flood, but there were no beadie beads to clean up after using the Ouidad Double Detangler. I would recommend it.
Click on the video below for a live demonstration: