[Video] Creating a Low Puff on Thick Hair
I have really thick hair and it's difficult for me to get my puff as low as I like it. So, I developed a new technique to get my puff positioned exactly where I want it instead of directly on top of my hair all the time.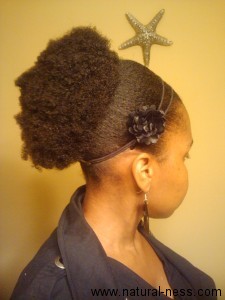 Products used in this video:
Goody Ouchless Hair Elastics
– To tie off bottom half of hair
Scunci Headwrap Flat No Damage
 - To accessorize puff
Large Black Mum Hair Flower Clip
 - To accessorize puff
Eco Styler Olive Oil Styling Gel
 - To smooth out the front of the hair in order for it to lie down
Deluxe Satin Tie Band Black
 - To help hair in front to lie down. A second one of these scarves can also be used to tie back the puff.
For step-by-step instructions on how I created this puff, watch the video below: