I have discovered another use for my beloved Ghana Plaits…hair stretching!  Well, I can't say that discovered it, it would be more accurate to say that I finally discovered an effective way to stretch my daughter's hair.  Her hair is not very stretch friendly.  I create stretched afros on my own hair by braiding it in large braids, then combing the hair out after taking the braids down.  This technique does not work on my daughter's hair.
I was online reading up on hair banding.  So I went to a couple of stores trying to find goody bands, and wouldn't you know it…I couldn't find them anywhere.  So I came home and said to myself, "Isn't hair threading sort of like banding?"  The answer is yes, it is just like banding, except with thread instead of goody bands (thread is a lot cheaper than bands by the way).  Here is the result of my hair stretching experiment on my daughter: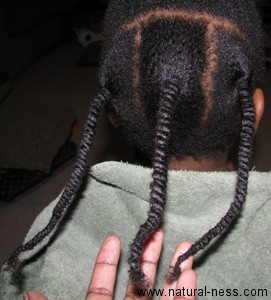 To begin, I divided her clean moist hair into 6 large sections.  I used Jane Carter Solution Wrap and Roll (I just realized that I have never done a formal review of this product) on each section, before I began wrapping them with thread. The goal was not for her to wear these plaits out, just stretch out her hair.  Here are the three back plaits. (Why does it look like I'm misspelling the word plaits?)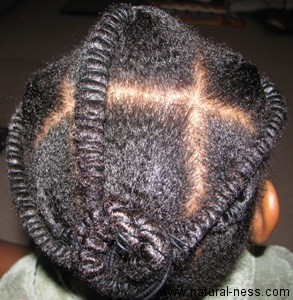 I then rolled the back three plaits into a bun. When I completed the top three plaits, I connected them to the bun using an ouchless band.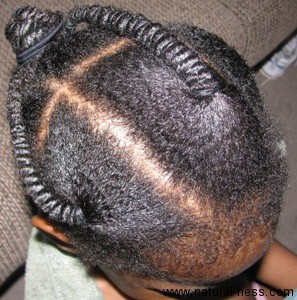 Here is the top divided into its three large sections.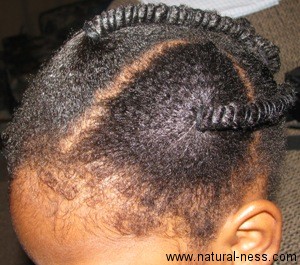 Here is the other side.  Like I said, I did not intend for this style to be worn out, but I actually left these plaits in her hair for about three days.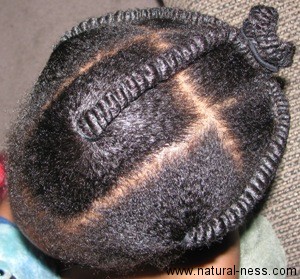 Keep in mind that this technique could be used on adult hair as well.  I just have not worked up the nerve to try Ghana Plaits on my own head (I could not imagine trying to plait the back of my hair by myself).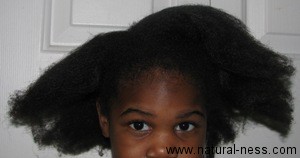 When I removed the plaits, this is what I got.  Overall, I do not believe that the Jane Carter Solution Wrap and Roll made much of a difference with my daughter's hair.  I probably could have used any product and gotten the same results.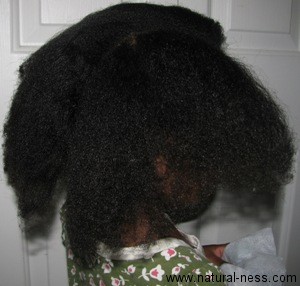 The Ghana Plaits was successful in stretching her curls and giving her hair a blow dried look, without heat.  Her hair probably would have been even straighter if I used a brush or comb on the ends, but I was afraid to do that.  I try to avoid combing her hair at all when it is dry.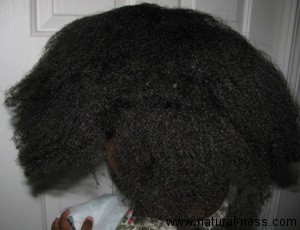 Here is the other side.  After I took these pictures, I went ahead and braided her hair (which was nice because it was stretched out so well).  While braiding, I used a spray bottle to moisten  the ends of her hair, before using a comb on them.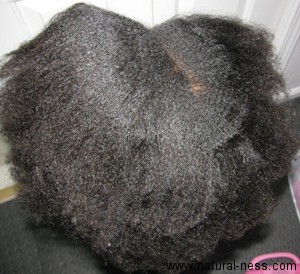 The best thing about braiding her hair while it was stretched out, is that her hair was totally tangle free!  Not having to deal with tangles cut the hair styling time significantly.  I am now a big fan of using Ghana Plaits to stretch the hair in lieu of a blow dryer!