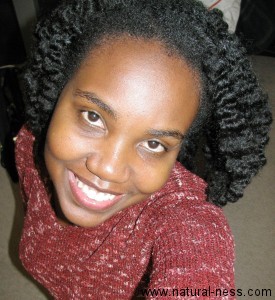 Hello, LV here! It's been a while since my last post and I'm sure you may be asking what the heck I mean by the title of this post.   I get a lot of people asking me about hair growth and what I did to get my hair to grow.  This question usually results in me with a blank face without a lot of advice.  Why?  Because, with all of the natural hair care advice and websites available out there, I didn't think people would believe me if I told them my routine.  Second, I never really knew how to explain my hair growth.   However, I think I've finally come up with an answer…sometimes the key to hair growth may be to just leave it alone.  Leave it alone?  Let me break down my hair routine…
I wash my hair…wait for it…once a month.  Yes, you heard me…I wash my hair once a month.  Why?  Well I didn't intend to vary my wash routine.  I'm a stay-at-home, home school mom of two children.  We participate in a lot of activities within our city.  Between soccer practice/ games, gymnastics, guitar practices/recitals, speech classes, drama classes, home school classes at various museums in town and field trips…my hair often takes a backseat.  Who has time to worry about hair?  Heck, I'm lucky to fit in a wash once a month, because even that's pushing it.
After washing my hair, I braid it using just Coconut Oil.  I have other hair products, but Coconut Oil has become my staple allowing me to leave most of my other products behind.  I usually braid my hair into about 15 braids.  I use sponge rollers (with satin) to curl up the ends.
I allow these braids to stay in my hair for maybe a day or two, just to make sure the braided texture really sets in.  I then remove the braids for a braid-out.  My braid-outs last for about two weeks and I wear them for at least that long.
When my braid-out starts looking bad and/or feeling dry, I re-moisten my hair and re braid it.  Removing these braids results in another two week braid-out.
After the next two weeks of braid-outs, it's time for a wash.  I use Apple Cidar Vinegar (mixed with water in a spray bottle) to give my scalp a pre-wash treatment.  I then wash my hair using a sulfate free shampoo.  I'm currently using Creme of Nature Professional Shampoo and Conditioner (orange bottle) , but I am not attached to any particular brand of shampoo.  While I am washing my hair, I detangle it using a cheap conditioner (usually Suave).  After my hair is shampooed and detangled…I braid it and the routine starts all over for me.
So, what can I conclude about my routine?  Well, I did a 2nd BC in 2009…three years later, my hair has grown longer than it has ever been in my life.  I contribute it to the lack of manipulation.  Washing my hair once a month means that I'm forced to detangle it less.  With the braid-outs, I'm also not combing my hair much.  I run a comb through my hair two times a month.  Ha!  Can you believe it?
Now, before anyone reading this decides to drastically change up their routine…I am not a hair care expert.  In fact, most hair care experts would probably frown at my routine and be amazed that I have any hair at all.  However, I had to do what fits my lifestyle.  Does my hair feel or smell dirty with a once a month wash…no, no more than it would if I wore it braided for a month. Would my routine work for others?  Maybe, maybe not, but I do believe that the less you manipulate your hair, the more chances you give it to grow.  But, I won't say anything else…let me share some pictures showing my hair growth…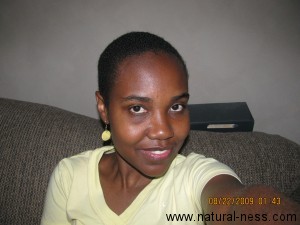 My 2nd BC in August 2009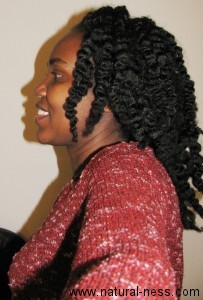 Here's a stretched braid-out from a few days ago.  (I plan on sharing this stretching technique in a a video soon!)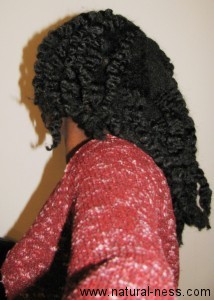 This is my hair growth between August 2009 and December 2012 (3 years).  My hair has grown much longer after my 2nd BC than it did after 4 years after my first BC.  The only thing that has changed is that I've gotten lazy with styling and don't experiment as much 😉