Smooth 'N Shine Curl Activating Gel for Extra Dry Hair with Aloe Vera
This review is over a year old and I no longer use this product.  However, this review still contains my thoughts about the product back when it was in use and other information that you may find useful.
Note: I am by no means an expert on hair care.  The products I use and care routine I follow is based on trial and error.The following products and/or care routine may or may not work for you.  Everyone's hair is different.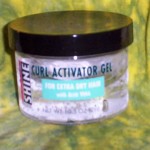 Product Purpose:

Activate Curls & Provide Moisture
Ingredients:
WATER, GLYCERIN, ALOE BARBADENSIS LEAF EXTRACT, HYDROLYZED WHEAT PROTEIN, HYALURONIC ACID, PANTHENOL, OLETH-20, CARBOMER, TRIETHANOLAMINE, BENZOPHENONE-4, DISODIUM EDTA, DMDM HYDANTOIN, FRAGRANCE, EXT. V
Product Review:
I bought this to add moisture and a little curl definition to my hair , but I found that I do not like the feel of gel in my hair.  I now use it to smooth down my occasional puffs.
Updated review: I have not used this product in a long time because I had a hard time finding it.  This is a product that I really, really missed.  I thought it had been discontinued, but after posting this review, I decided to try finding it on amazon.com and it was there! (See product here: Smooth 'N Shine Curl Activator Gel Extra-Dry 10.5 oz.
) I'm thrilled that this gel is still being made, because no other gel smoothed down my hair with the texture and shine that I love quite as well as this gel.  I may have to place my order!