September Hair Updates (4 – 6 inches)
Sorry about the lack of hair related updates yesterday.  Every once in a while something else captures my attention and I decide to post about it instead of hair stuff.  Also, I included the post about Walk It Out, because in order to grow healthy hair, it's important to maintain our body's health through a balanced diet and exercise.
Anyway, back to hair…here are pictures of my latest wash n go.  I like to include pictures of my hair in it's wash n go state, because I think it's important for people to see that it's a great styling option when you are short on time.  Also, what better way to show off your unique hair texture, than when it's in its most natural state.
When I wear a wash n go, I mean just that…wash and go.  I literally just wash it with conditioner , blot it with a towel (I never rub the towel over my hair, I just blot out the drips), allow the hair to air dry and go. Sometimes I'll add a product to my hair (such as Carol's Daughter Hair Milk – review coming soon), but in these pictures I did not add any products.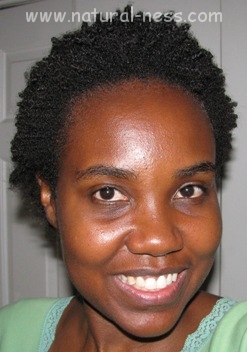 front view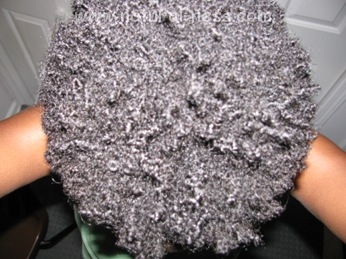 top view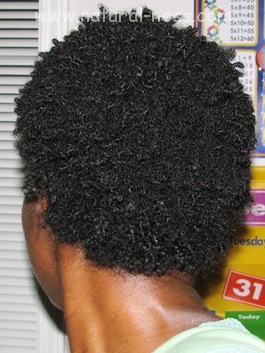 back view
Here is a texture shot.  My hair sort of coils up very tightly in the front and at the top.  Some spots of my head does not coil much at all. The longer I wear the wash n go (rewashing it every morning), the more it tends to coil. When I first BCed, I avoided the wash n go, because my hair was difficult (almost impossible) to detangle after wards.  After my 2nd BC, my hair does not tangle as bad.  Go figure.