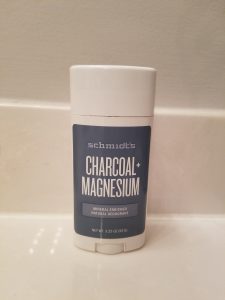 Schmidt's Natural's Deordorant is a plant and mineral based product. It avoids using harsh products like aluminum. The formula is said to effectively neutralize odors and help absorb wetness.
Ingredients
Marana arundinacea (arrowroot) powder, Cocos Nucifera (coconut) Oil, Euphorbia Cerifera (candelilla) Wax, Butyrospermum parkii (shea butter), Sodium bicarbonate (baking soda), Caprylic/Capric Triglyceride (fractionated coconut oil), Simmondsia Chinensis (Jojoba) Seed Oil, Essential Oils, Natural Fragrance, Tocopherol (vitamin E; sunflower-derived)
Review
I have tried quite a few natural deordorants and the problem I find with most of them is that they did not hold me. I felt the need to constantly reapply. I just recently discovered Schmidt's deodorant and so far I have tried the Charcoal + Magnesium. I love the scent and it holds me all day. It does not leave a stain on my clothes or leave a residue on the skin. The problem I did have with the deordorant is that it was really rough. After a couple of weeks and skin started to burn and peel. Because I didn't have a replacement I continued to use the product, I just applied less and rub it in a downward direction instead of back and forth, that actually helped I haven't experienced any burning or peeling since. I don't know if this was due to the roughness or the fact that I have sensitive skin. But, I have faith in this deordorant I think it's just the Charcoal + Magnesium that has a rough texture. To make sure it doesn't irritate my skin I do rotate it with a sensitive version. However, the Charcoal + Magnesium is my favorite and I will continue to use.