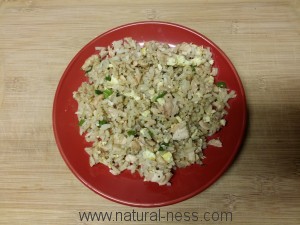 I wanted to try something different for lunch and add more salmon to my diet at the same time. I ran across a recipe for Salmon Fried Rice and altered it to my liking.
Ingredients:
1 Salmon Fillet
2 cups Cooked Brown Rice
2 Eggs
1/4 cup Green Onions
1 tsp Liquid Aminos (Soy Sauce substitute)
1/4 tsp Garlic Powder
2 tbsp Earth Balance Buttery Spread
1 tbsp Lemon Juice (optional)
1/4 tsp Salt
1/8 tsp Pepper
Instructions:
Cook brown rice according to package. Set aside.
Scramble eggs. Set aside.
In a skillet on medium heat add butter, garlic, and lemon juice.
Season salmon with salt and pepper. Add salmon to skillet. Cook 4-5 minutes on each side. Break salmon into small pieces and add green onions. Depending on thickness, continue cooking until salmon is thoroughly cooked.
Add rice and eggs.
When all ingredients are mixed well, add soy sauce. Mix it all together. Serve immediate.