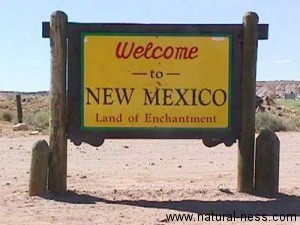 For those who have not "liked" our facebook page or who don't follow on twitter, you probably don't know that we are currently on vacation in Oceanside California after a three day road trip from Tennessee.  I love road trips, because you get to see parts of the country that you would not get a chance to see when flying.  We went through the states of Arkansas, Oklahoma, Texas, New Mexico, Arizona and finally Cali.  By the way, I am so in love with Albuquerque New Mexico!  It is a gorgeous city from the highways, to the homes, down to the architecture and colors chosen to paint the buildings…beautiful!
Anyway, this trip has inspired me to re-announce another way to be featured on the website.  Last year, I introduced the "Natural-ness in the States" feature and received about 20 submissions from states all over the country (check out our "Rep Your State" beauties here: RYS).  States  featured so far include Florida, California, Tennessee, Mississippi, North Carolina, Delaware, South Carolina, Georgia, Texas, New Mexico, Missouri, Oklahoma and Virginia. My goal was to attempt to post people from the majority, if not all of the states in the US.  I think I want to try it again…so…if you are interested in "Repping Your State", please check out the following link: Natural-ness in the States.
Don't live in the United States?  That's OK, I haven't left you out.  I'd love to feature you as well!  Here's the link for naturals outside of the United States: Global Natural-ness.  Here's the link to check out some of our past Global features: GN
Anyway, back to our trip.  Oceanside is about 40 minutes north of San Diego.  The city of San Diego is so significant for me because it is where I lived for ten years before relocating to Tennessee.   I'm a Cali girl born and raised, originally from the San Francisco Bay area, I moved to San Diego after graduating from high school to attend San Diego State University.  I received my BA in Psychology and my Master of Social Work degrees from SDSU.  San Diego is also where I met some of my best lifelong friends, met and married my husband of almost 10 years and gave birth to my first child.  In other words, this is where I achieved some of my most significant milestones.
Why the heck did we move from this city of paradise to the south?  Well, in a nutshell, affordability.  In the south, we could afford a home.  In San Diego, our rent was more than our current mortgage.  Don't get me wrong, I'm happy with our decision to relocate.  The south has its own beauty and is so rich in history.  However, it is nice to be back in the city where I experienced so many beginnings.
Well, I'd better sign off before I begin rambling.  I hope you are all having a terrific day and I also hope you'll consider submitting to either the "Natural-ness in the States" or "Global Natural-ness" features.