Usually when I cook Tilapia I bake it in the oven. I have grown tired of baked Tilapia so I decided to try something different. I pan-seared it and served it with brown rice, boiled asparagus, and I love pineapple with my tilapia. Why did I wait so long to try this? It was awesome!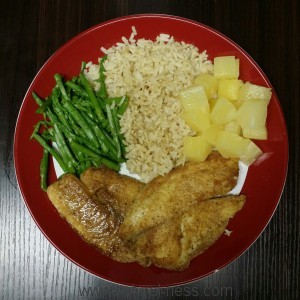 Ingredients:
2 Tilapia Fillets
1/2 cup Gluten Free All-Purpose Flour
1 tbsp Olive Oil
2 tbsp Earth Balance Buttery Spread
1 tsp Garlic Powder
2 tsp Old Bay, divided
1 tsp Creole Seasoning
Directions:
Melt butter and add garlic powder. Set aside.
Season tilapia with Old Bay seasoning.
Place flour in a shallow dish. Add in remaining Old Bay and Creole Seasoning. Gently press each fillet into the flour to coat and shake off excess flour.
Heat olive oil in skillet over medium heat; cook tilapia in hot oil for 5 minutes on each side or until fish flakes with fork.
Remove tilapia for skillet and brush the melted butter and garlic on the tilapia. Serve immediately.
Quick and easy meal!