Organics Olive & Clove Oil Therapy
This review is over a year old and I no longer use this product.  However, this review still contains my thoughts about the product back when it was in use and other information that you may find useful.
Note: I am by no means an expert on hair care.  The products I use and care routine I follow is based on trial and error.The following products and/or care routine may or may not work for you.  Everyone's hair is different.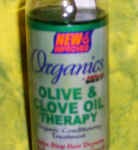 Product Purpose:

Organic Conditioning Treatment
Ingredients:
SOY BEAN OIL, CLOVE OIL, OLIVE OIL, AND MINK OIL AND JOJOBA OIL AND TOCOPHERYL ACETATE AND TEA TREE OIL AND EGG POWDER AND MILK PROTEIN AND HONEY AND SILK AMINO ACIDS AND CHOLESTEROL AND CORN OIL AND BHA AND BHT AND PROPYL PARABEN, COCOA BUTTER, SHEA BUTTER, FRAGRANCE, DYE
Product Review:
Nice as a hot oil treatment.  It left my hair soft for a few of days.
Available at amazon.com: Africa's Best Organincs Olive & Clove Oil Therapy 6 oz.