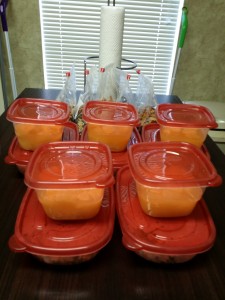 This year I'm trying to practice meal prepping more. I only meal prep on weekdays. Weekends are my cheat days so anything goes.
Why I meal prep?
– To ensure I eat healthy all week.
– To keep me from being lazy and getting fast food during the week.
– To make sure I don't skip any meals due to lack of time.
– To save time during the week to do other things.
What types of foods do I usually eat when I meal prep?
I'm on an endometriosis diet plus I'm trying to eat cleaner. So, I try to get in a balance of protein, carbs, and vegetables with each meal. Some of my favorites foods to use are:
Proteins –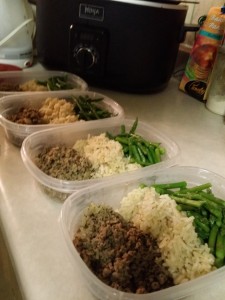 Chicken Breast
Ground Turkey
Seafood (Salmon/Tilapia/Shrimp)
Eggs
Carbs –
Brown Rice
Potatoes
Gluten Free Pasta
Vegetables –
Asparagus
Broccoli
Lettuce
Tomatoes
Carrots
Snacks –
Fruit
Nuts
Dark Chocolate
Peanut Butter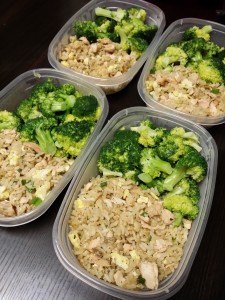 How do I prep my meals?
Fridays are when I put together my menu and grocery list. My menu includes breakfast, lunch, dinner, and 3 snacks. I try to eat 6 times a day because I've been working out and trying to gain.
On Sundays I do my grocery shopping and prepare all my meals. I work on one meal at a time. I usually start by separating my snacks into Ziploc bags for each weekday. After that I prepare lunch for the week. I usually prepare the same thing for the whole week. I bought a bunch of plastic containers to separate my meals for the whole week so they will be ready to pack for work. For dinner I don't usually divide into separate containers because I don't always complete the whole meal the same day. I will prepare my carbs and vegetables in advance but depending on what I'm preparing my proteins are prepared on a day by day basis. I like my chicken breast, salmon, and tilapia cooked fresh each day. I don't prepare breakfast in advance because most breakfast foods I like to eat fresh.
Results of meal prepping?
– I now eat less fast food
– I don't miss meals
– I save money
– I have reached my post surgery weight gain goals