Natural-ness in: Tennessee
The Volunteer States returns, this time represented by my cousin TL who cut her hair moments before submitting her information!  Truly an inspiration!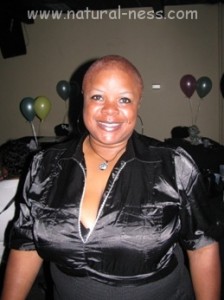 Name:
TL
What state are you representing?
Tennessee
How long have you been natural?
I just cut it!
What's the natural scene like in your area?
Besides a few people at work, I don't see many people around me
with natural hair. Everybody that I see wear weaves.
Additional comments regarding your natural hair:
My first reaction was "I'm free!" My husband cut it for me, with love, and he
likes it a lot.
Would you like to "Rep Your State"?
If so, please fill out the form here: Natural-ness in the States. I will be glad to accept more than one entry from the same state. Let's see what state will be represented the most! Once I get at least 20 submissions, I will randomly choose one lucky person for a special giveaway!