I am excited to present our first feature from the Buckeye State!  This puts us at 15 states represented so far. Please welcome Lorie'l and be sure to read her well thought out responses below.  She is truly an inspiration: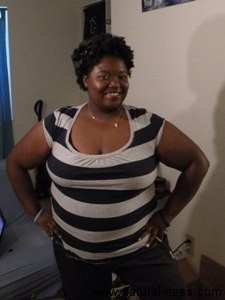 Name:
Lorie'l
What state are you representing?
Ohio
How long have you been natural?
1 year and couple of weeks?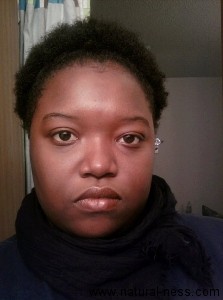 What's the natural scene like in your area?
Right now I'm in Dayton, I don't consider it to be Natural friendly
lol, I haven't found a salon that cater to natural hair yet so it kind
of forces you to DIY. I did recently me a group of about 30+ females
in the Dayton area that have a group on FB called "Gem City
Naturalistas" they do meet ups and have discussions on and off of FB
but I'll be graduating soon so I won't fully be able to take advantage
of that.
That being said I'm learning how to do my hair somewhat lol, and I am
still learning how to braid (not quite there but I'm getting better at
it). I will be back in Cleveland for a minute and I know in Cleveland
there are an abundance of hair salons for natural hair so that makes
me feel good. I'm looking forward to receiving a hair consultation,
and having my hair worked on properly!
Additional comments regarding your natural hair:
I didn't plan on being natural so I don't have pictures showing my
"Hair Journey" progression. I had a really bad summer last year (still
not quite over it) but I cut my hair b/c I was upset and it was my way
of coping with a loss.
I co wash at least a couple times a week and deep condition every
week. I tend to do twist outs (although I'm slightly convinced it's
because I don't leave them in longer than over night, but I can't
bring myself to walk around with my hair twisted). It ends up in kind
of a messy sort of look; I like the messy look it fits my life.
One thing that has been hard for me to accept is my hair growing
slowly, (I am a victim of shrinkage too lol). My ultimate goal is to
have hair that I don't have to twist to get length.
After literally 10 months of trying to find something that moisturized
my hair, while keeping it soft, and not being to greasy or harsh I
tried Alikay Naturals by Black Onyx (Vlogger on YouTube and is totally
awesome) and I have been in heaven ever since! It makes my hair feel
soft and it moisturizes the products are natural and organic and my
hair has never felt or looked better!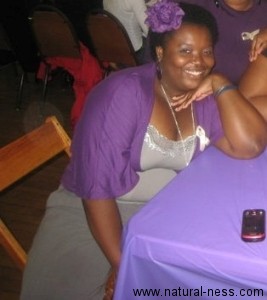 Would you like to "Rep Your State"?
If so, please fill out the form here: Natural-ness in the States. I will be glad to accept more than one entry from the same state. Let's see what state will be represented the most! States featured so far include Florida (3), California (1), Tennessee (2), Mississippi (3), North Carolina (1), Delaware (1), South Carolina (1) , Georgia (1), Texas (3), New Mexico (1), Missouri (1), Oklahoma (1), Ohio (1),  Louisiana (1) and Virginia (5).
Note: The number in parentheses next to each state represents the number of times that state has been featured.