Low Carb Turkey Burger (Endometriosis Friendly)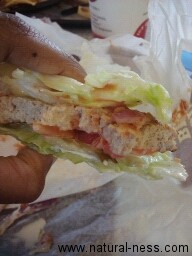 Carl's Jr. (or Hardee's in some states) offers a low carb Turkey Burger. It's a charbroiled turkey patty, special sauce, mayonnaise, red onions, tomato, whole-leaf lettuce, and dill pickles on a honey wheat bun (or you can get it on a lettuce wrap instead of a bun if you are looking for an endometriosis friendly alternative) .
This was a delicious alternative to a traditional burger. Actually in my opinion it was more tasty than a beef patty. When I try to make turkey burgers at home they tend to come out dry and not as flavorful. Unfortunately there is no Carl's Jr. or Hardee's near me or I'd get it all the time. I've been having a hard time finding endometriosis friendly options at fast food restaurants where I live that are this tasty and where I don't have to make special requests. I highly recommend this to anybody who is on a low carb diet or anyone living with endometriosis.
Carl's Jr. also offers a Low Carb Chicken Club, a Trim It Charbroiled BBQ Chicken Sandwich, and several other gluten-sensitive options. It's a relief to go into a fast food restaurant, see what you want and order it right off the menu just like everyone else without the added frustration of miscommunication with the cashier.