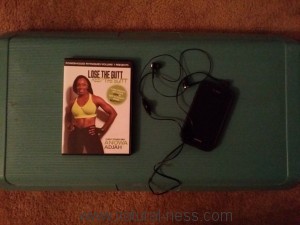 LOSE THE GUTT KEEP THE BUTT focuses on toning your abs and sculpting your booty using your body weight. This is a 43 minute workout that builds in intensity.
Pros:
– Ab exercises are modified for woman who recently had c-section.
– The trainer actually participated in the whole workout.
Cons:
– Didn't feel much like a workout compared to her other videos.
Review:
This video sets out to do exactly what I'm looking for, give you lean abs and lift your booty. Being that I recently had an oopharectomy, I love how she modified the ab workout for those who recently had surgery. Her other workouts had a lot of planking and I couldn't participate. I will continue to do this workout and look forward to the results.