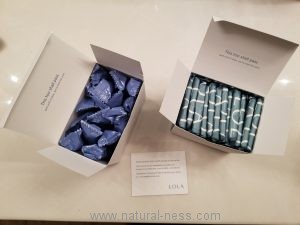 Last year after reading how commercial feminine care products put chemicals in the product to make our periods heavier, last longer, and more painful I decided to look for natural feminine care products. I don't know if the claims are true or not but going natural couldn't hurt. That is when I came across Lola.
About Lola
Lola provides organic cotton feminine care products delivered straight to your door. They offer applicator tampons, non-applicator tampons, ultra thin pads with wings, and ultra thin liners. You can adjust, skip, or cancel your subscription at any time. You choose the products that fit your needs, the assortment in each box, how many boxes you want (up to 3), and how often you need it (every month or every 2 months).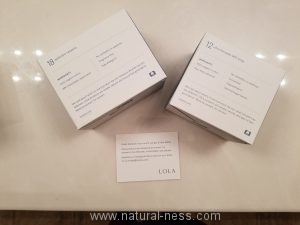 Tampon Ingredients
100% Organic Cotton
BPA-free Plastic Applicator
Pad Ingredients
100% Organic Cotton
Plant-based Backing
Non-toxic Adhesive
Does Not Contain
Synthetic Fibers
Chemical Additives
Fragrances
Does
Chlorine Bleach
Latex
Parabens
Formaldehyde
Product Review
This is the best subscription service I have ever subscribed to. Pad and tampon shopping is my least favorite chore and now I don't have to worry it. I have noticed that my period is lighter. I used to have to wear both a pad and tampon at once. Now I can go with just a tampon. I don't experience as much pain as I used to but that could be attributed to change in diet as well because it had improved before switching to Lola. The only con to the product is towards the end of my period if the tampon is too dry when I remove it the cotton stretches and tears but I just use pads on my last day to solve that.
If you would like to try Lola, you can get $5 off your order when you use my sign up code nwilliams4 at https://goo.gl/KT223F.