Today is hair day and I decided to try a deep cleanse on my locs. Ingredients that I used included 1/2 cup of baking soda, 1/4 cup of apple vinegar, 1 tablespoon of sea salt, 1 tablespoon of lemon juice, and 4 drops of lavender essential oil. I filled my bathroom sink with water and added the ingredients. Then I let my soak for about 10 mins. I don't use a lot of product besides aloe vera gel so I think most of what you see comes from sweating during my workouts and dry scalp.
The ingredients used have many benefits to the hair.
Baking Soda is an alkaline product has antibacterial, antifungal, antiseptic and anti-inflammatory properties. It clarifies the scalp removing extra product and impurities.
Apple Cider Vinegar destroys the fungus that causes dandruff and restores the pH balance of the scalp. It helps nourish the hair, giving it a shine and soft texture.
Sea Salt helps open the pores, improve circulation, stimulate cell growth and draw out toxins from the skin. Sea salt also helps accelerate the locking process because it dries out the hair and increases the friction between the hairs which leads to more knotting.
Lemon Juice has antioxidant, antibacterial, antifungal, and astringent properties that help improve the appearance and condition of your hair. It helps balance the pH level of your scalp and reduces excess oil secretion which causes dandruff.
Lavender Essential Oil
has anti-inflammatory, antifungal,antiseptic, and antibacterial properties. Lavender oil is regenerative and helps promote hair growth.
Here is a before and after picture of the water I soaked my locs in, pretty gross!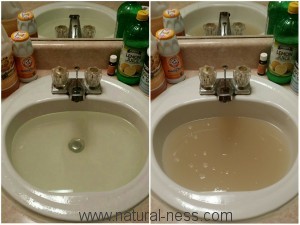 This is the first time I have done a deep cleanse on my locs since I started my locs and it wasn't too awful considering I've been locked for 2-1/2 years so I probably will not do it too often. I will maybe do a deep cleanse once or twice a year. Even though these products have many benefits they are also drying and I already suffer from a really dry scalp. Since I don't use a lot of product in my hair I don't think it's necessary to do often.