Good Hair :-\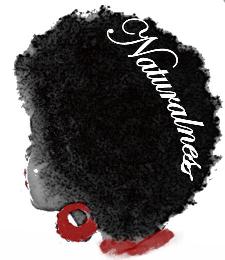 I received the following message from a friend last month, who gave me permission to repost it and answer it here on this site.  Here's the message:
Merry belated Christmas and happy early New Year! I hope you and the family are enjoying the holiday season.
So, I find myself getting really annoyed and kinda sad that people are still talking about wishing they had good hair and hating nappy hair. When someone makes comments like that, do you take the opportunity to express how you embrace natural hair or do you just ignore it? Plus it's rather rude to say it to someone who clearly wears her hair NAPPY!! My friends do it all the time. Sometimes I'll just say "some people DO love their nappy hair, you know."
My friend came over today. I guess she'd been transitioning to natural and now all the relaxer is grown and cut out. She was wearing a super cute twist out, but this was her first time wearing her natural hair out (always had braids during transition). She's about to go back to braids and made some comment "to" T [baby's name has been removed for privacy] about too bad his hair is going to change later. You STILL hate nappy hair!?!? I know it's a result of years and years of brain washing and hot combs, but really.
My response: Based on my encounters with different people in my five years of being natural,  I can say that some of us still have a long way to go to truly accept our hair in it's natural texture.  The road is much longer for some than it is for others.  Have I run across people who talk about "good hair" or "bad hair" right in front of my face?  Yes.  I currently live in the south and I have to say that the term "good hair" has come out of more than enough mouths.  I'm not saying that people here in the south say it more than people who live in other areas of the country, but I can say that I've heard  it slide off  tongues pretty regularly here.
How do I respond when I hear it said to me?  I wish I had a well thought out response for it, but I have yet to come up with one.  I still feel a bit shocked when I hear it.  I've been tempted to pull out my Val & Nadine cartoons that discuss the issue.  I have even been tempted to share a few articles from this site (maybe I should print them out and have them ready…just kidding).  In the end, all the preaching in the world won't change people's thoughts on natural kinky hair.  Why?  Because it's a personal journey.  Each person has to come to love kinky hair on their own.  Some people never will and that's OK, we are all entitled to our preferences and I don't think our job is not to try to "recruit" or "change" people's minds.  Our job is to change ourselves.
So you wear your natural hair texture and you love it, but on a day to day basis, you encounter others who are on the opposite end of the spectrum, or maybe not on the opposite end, but somewhere far away from where you are.  In the message above, my friend talks about how one of her transitioning friends actually told my friend's infant son that it's "too bad that his hair is going to change."  What do you do in a situation like that?  I think that the best thing you can do is hold your head high and show these people that their opinion has no effect on you.  Don't shrink under these type of comments, but let your confidence shine.  In case of people making these comments around your children, if you begin to teach your child how beautiful they are, hair and all…they begin to build a resistance to these type of comments.  I love the news story of the lady who saw how her daughter's self esteem was being shattered by a negative hair image, so she cut her own relaxed hair off in order to show her daughter how beautiful natural hair is.  Now of course, the daughter will still encounter people who will continue to make negative comments about her hair, but her mother took a step toward providing her with her a tool in order to build resistance to negativity.  We can give our children these "tools" on a daily basis.  We do this by loving on our children and telling them how beautiful they are.
I guess the bottom line is, we can only control and change our own attitudes.  If people around you have a negative view of your natural hair or even their own, then all you can do is be and love yourself.  Just by doing that, there will be some people who decide to do the same.