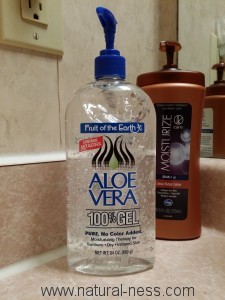 Uses:
Non-oily moisturizer provides effective relief from sunburn, minor burns, skin irritations, insect bites, chafing, itching, dry skin.
Ingredients:
Aloe Vera (Aloe Barbadensis) Gel, Triethanolamine, Tocopheryl Acetate (Vitamin E), Carbomer 940, Tetrasodium EDTA, DMDM Hydantoin, Diazolidinyl Urea
Product Review:
I use this Aloe Vera gel for many different things. It's one of the favorite products I have. It's the only thing I use for a locking gel at the moment. I also use it on sunburns and bug bites which I get pretty bad. I recently discovered it's effectiveness on Tinea Versicolor which I have been dealing with for years but keep forgetting to get my prescription renewed, now I don't need to. This item cannot be replaced. I refuse to purchase another brand. I just hate that I cannot find it in Walgreen's anymore, I have to order it on Amazon.