Below are the answers to questions people frequently ask me about my locs.
How many locs do you have? I have 100 locs.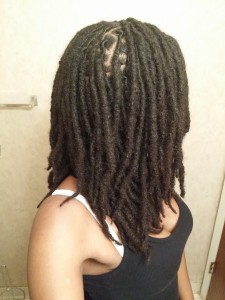 Did you start your own locs? No, I had a professional stylist start my locs.
How did you start your locs? My locs started as two strand twists.
How often do you wash your hair? Every 2-3 weeks.
How often do you retwist? I retwist every time I wash so every 2-3 weeks.
What method do you use to retwist? My locs are palm rolled.
How long was it before your hair began to loc? I think it was about a 1-1/2 before I started to notice budding.
Who maintains your locs? I currenly maintain my locs on my own.
How do you maintain your locs? I spray my scalp with apple cider vinegar an hour or two before I wash my hair. I wash my hair with Dr. Bronner Castile Soap. Do a final rinse in cold water. I retwist with 100% aloe vera gel. I moisturize 4-5 times a week.
How do you reduce frizz? When I wash I do a final rinse with cold water.
What do you retwist with? I just use 100% Aloe Vera Gel or I make a DIY Aloe Vera Loc Gel.
What do you use to wash your locs? I wash my hair with Castile Soap.
What types of oils do you use on your locs? Mainly Extra Virgin Olive Oil and coconut oil.
How do you moisturize your locs? I make my own Coconut Water Leave in Spray that can be used daily, using a mixture of aloe vera juice, coconut water, and essential oils. I like to Moisturize Scalp With Oils. I use a mixture of carrier oils (i.e olive oil, coconut oil) and essential oils (i.e lavender oil, tea tree oil).
Do you have any tutorials? Yes, check out our YouTube channel @naturalnessdotcom.
(Click on the hyperlink for more details to my answers)
If you have any other questions feel free to leave a comment below and I'll add them to the list.