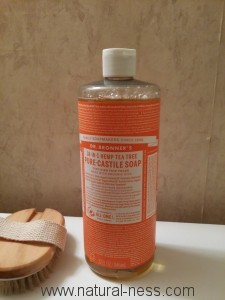 Uses:
for washing body, face or hair, but also powerful enough for tasks like dishwashing, mopping, laundry and even pest control.
Ingredients:
Water, Organic Coconut Oil*, Potassium Hydroxide**, Organic Palm Kernel Oil*, Organic Olive Oil*, Tea Tree Extract, Organic Hemp Oil, Organic Jojoba Oil, Citric Acid, Tocopherol
Product Review:
I like this product due to it's multiple functionality. I use it as a body wash, shampoo, and a laundry detergent. I've tried the lavender, peppermint, rose, and tea tree. Tea tree is by far my favorite. Peppermint is really strong and you don't want to accidentally get it on you private parts…OUCH!! The tea tree soap can be applied over your entire body. The lavender and rose just didn't do it for me when it came to my hair. This product also comes in bar soap form but I prefer the liquid.