Please give a warm welcome to Ayana, our first double feature!  Ayana BCed a little over a year ago and is the first on our site to represent  the Pelican State.  Ayana also included pictures of her big chop process to inspire those who are thinking of doing the "Big Chop", but are a little hesitant.  Be sure to check out her amazing hair growth!

Name:
December 2009
4 months
April 1, 2010
Afro Puff
When I wear my hair in a puff I wash once weekly with cream of nature soothing shampoo and  nourishing conditioner. I co-poo every two to three days in between washes. I also use motions leave in conditioner and Sta-Sof-Fro after washing to make my hair softer and easier to comb. Once I complete styling and finish off with Natural Sheen Comb Ease & Oil  Sheen Spray for shine
Louisiana
There are a lot of naturals in the area, although there aren't many salons that specialize in natural hair. I wish there were more events catered toward naturals in the area.
Additional comments regarding your natural hair:
I love my hair, I am so happy that I made the decision to stop using the "creamy crack". It started off hard, but I am glad that I continued on my journey to being natural.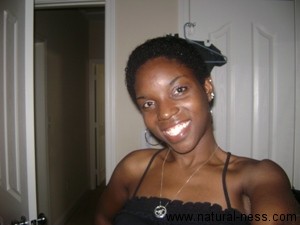 Are you a new natural (1 year or less) who would like to be featured?  If so, click here for more details: New Naturals Showcase
Not a new natural?  That's OK, click here for into on more ways to be featured: Be A Part of Natural-ness