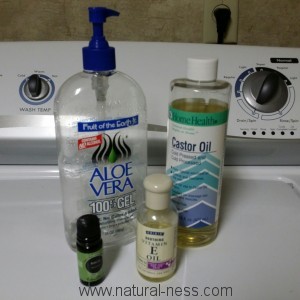 I don't use a lot of commercial products on my locs because they tend to be too expensive for my taste and leave a lot of build up. Until I come by a product that proves me wrong I will continue to DIY. What I have found that works best on my locs is DIY Aloe Vera Loc Gel. Sometimes I use just plain aloe vera gel and sometimes I'll add other ingredients. Lately, I've been mixing the aloe vera gel with castor oil, birch oil, and vitamin E oil. There are no specific measurements, just a 3:1 ratio of aloe vera gel to the other oils combined and only a drop or two of birch oil. You don't want it to be runny, you want it to stay a gel. By the time I wash my hair again there is no product build up at all. Why these ingredients?
100% Aloe Vera Gel
 – Balances scalp pH, reduces build up on scalp, stimulates hair growth, moisturizes scalp, treats dandruff, and treats hair loss.
Castor Oil
– softens your hair, restores your edges, improves scalp circulation, prevents breakage and split ends, and helps regrow hair.
Vitamin E Skin Oil
– Improves scalp circulation, adds shine to hair, and helps prevent dry split ends.
Birch 100% Pure Essential Oil
– Prevents dandruff, promoting growth of hair, and enriching the scalp.