Dami BC date Sept. 20, 2011
New Natural Showcase features make me smile.  I love getting the opportunity to feature beautiful ladies, just beginning their natural journey.  Today, I have the pleasure of presenting Dami!  Please give her a warm welcome: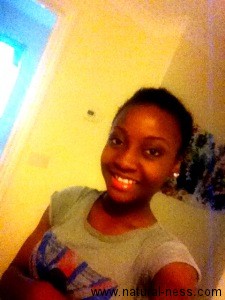 Name:
Dami
Date of Last Relaxer:
July 10, 2011
Length of Transition:
1 month -_-
Date of BC:
September 20, 2011
Favorite Style:
I can't style it yet lol
Current Routine:
Wash and go, but I've been on kinky twists for a month and half now…
Web, blog, youtube or fotki link:
www.youtube.com/natureZcoco
Want to be featured on the site?
I am still looking for submissions to "Rep Your State"  (for those living in the United States) and well as "Global Naturals" (for those living outside of the United States) and New Naturals (natural for one year or less) for the "New Naturals Showcase".  As well as "Natural-ness: Style Share".
Don't have a lot of time?  Just want to submit one picture?  Feel free to submit to our "Quick Pic" feature.  Don't forget to leave a caption for your picture!  If you would rather not use the form, please email your responses directly to diego2memphis@cbpublish.com