I sometimes hear women say the only reason they will not go natural is because it is too expensive. A lot of women are under the impression that it is imperative that they have to buy all these expensive natural hair products on the market today. So, I just wanted to do a post featuring my must-have items to show those skeptical women out there that natural hair does not have to cost a lot.
I am a reformed product junkie. These are my essentials items, I can get by on these and don't really need anything else. I do try other products now and again when other people recommend them to me so this list may change in the future but as of right now this is all I need.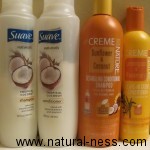 Depending on my budget, I love to use either Suave or Creme of Nature shampoo and conditioner. Suave can be purchased for as low as $.85 and Creme of Nature cost slightly more at $3.99 depending on where you buy it.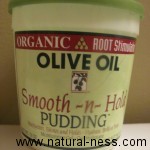 I love Organic Root Stimulator Smooth-n-Hold Pudding, this is my favorite product. This product can be used on every hairstyle I like to do. I use it on my braid-outs, two-strand twists, flat twists, and it can be used to slick down puffs (though I have been using other gels to do so just because I want to use them up). It doesn't flake and it holds my hair well. I purchase mine at the beauty supply for $5.49.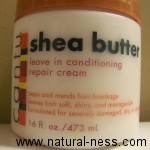 I usually use my Cantu Shea Butter before styling unless I'm using another product on my hair. I have found that Cantu Shea Butter doesn't play well with other products and will clump up in my hair. I love the smell and I love the way it makes my hair look. Cantu Shea Butter can be purchased for $5.99.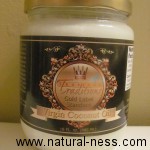 I like to use Virgin Coconut Oil on my braid-outs to make them shiny or to sustain my two-strand twists. I purchased from Tropical Traditions through Amazon.com for $19.99 which is more than I normally spend for hair care products but this was before I knew any better. However, it is a pretty big jar and I've had this jar for over a year now and it's still over 2/3 full so I'm getting my money's worth. However, coconut oil can be purchased from just about any grocery store for around $4.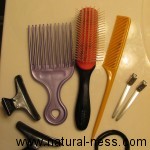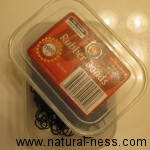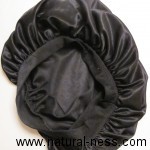 Here are all the utensils I use to accomplish my styles. I like to detangle using my pick and deman brush. I use my rat tail comb for parting. The goody bands and clicks help secure the hair I'm not working on out of the way. My black rubber bands are used to hold my flat twists. A silk bonnet to maintain my styles while I sleep and a silk wrap scarf to secure my puffs.