Claire's Hair Accessories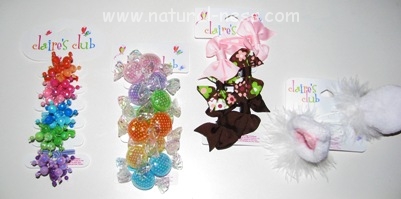 I just wanted to quickly share pictures of some hair accessories that a friend of mine sent for my daughter.  She purchased them from Claire's.  Now I've always known Claire's to be big on jewelry, purses and other accessories, but I had not thought to go there to find hair accessories for my daughter.
The two sets of hair accessories pictured on the left are attached to bands, so they go on like a regular rubber band would.  The 2nd from the left look like hard candy.
The other two sets of accessories are attached to clips.  The last pair of clips on the right are made to look like bunny ears – very cute.  If you look back on some of my daughter's recent braid pictures here, http://cbpublish.com/myhairjourney_files/?cat=19, you'll see a few of these accessories in action (although the pictures did not come out as clear as I would have liked).
I'll definitely be going to Claire's soon to see what other cute hair accessories  I can find.