I'm pleased to present another lovely new natural.  Please meet Tia and be sure to check out her video below where she documents her 18 month transition: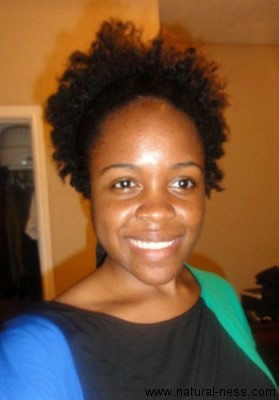 Name:
Tia
Date of Last Relaxer:
01/11/10
Length of Transition:
about 18 months
Date of BC:
07/24/11
Favorite Style:
Twist out puff
Current Routine:
I wash my hair in sections every two weeks with a Giovanni Tea Tree
Shampoo. I then deep condition my hair with a combination of half
yogurt and half Jessicurl Deep Conditioning Treatment for 2-4 hours
without heat. As a leave-in conditioner I use half Kinky Curly Knot
Today and half Aloe Vera gel, then I seal with shea butter. I normally
put my hair in 12 twists and wear a twist out for a style. I retwist
my hair in between washes a week later.
Web, blog, youtube or fotki link:
http://www.youtube.com/watch?v=Zd-mTTstfRw&list=PL94A73646FFCEDD16&index=1&feature=plpp_video
Want to be featured on the site?
I am still looking for submissions to Rep Your State  (for those living in the United States) , Global Naturals (for those living outside of the United States), New Naturals (natural for one year or less)  as well as Natural-ness: Style Share.  Click here to submit your info for one or more of these features: Be a part of Natural-ness

Don't have a lot of time?  Just want to submit one picture?  Feel free to submit to our Quick Pic feature.  Don't forget to leave a caption for your picture!  If you would rather not use the form, please email your responses directly to diego2memphis@cbpublish.com