I am so pleased to present the Sooner State, not only because this state has not been represented yet, but also because EbonyShy is sure to be an inspiration to many who live in states where natural hair is a rarity.  Check her out:
Name:
EbonyShy
What state are you representing:
OKLAHOMA!!!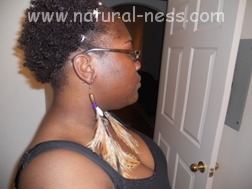 How long have you been natural:
I transitioned with loc extensions for 9 months and did my BC in July, 2010. So 4 months. ;o)
What is the natural scene like in your area:
The natural scene in OKC seems to be nonexistent. I personally dont know anyone that is natural, but when I run into one I make sure to say something encouraging to them! LOL. It's a little disheartening seeing so few natural people. I have yet to find a salon that either knew what they were doing, or that wouldn't pressure me to get a perm.  My old stylist told me she couldn't give me a sew-in until I got a perm! Im hoping that if I walk around long enough that it'll be the norm and possibly inspire/encourage someone else. Ill let you know how that goes. Lol.
Additional comments about your hair:
I have slowly but surely learned soooo much about my hair. Every style has different results. Lol. No two days are ever the same. It has be a struggle because when I was relaxed, I NEVER combed my hair. The only time I touched my hair was to perm it or to take braids down. ;o/ But after the first few weeks of frustration, I have found a routine and I'm doing pretty darn good. Ive even mixed a few concoctions of my own. Haha.
Would you like to "Rep Your State"?
If so, please fill out the form here: Natural-ness in the States. I will be glad to accept more than one entry from the same state. Let's see what state will be represented the most! Once I get at least 20 submissions, I will randomly choose one lucky person for a special giveaway!