I've been thinking about it for a long time now and I finally did it. I got two strand starter locs installed today

. I'm nervous and excited at the same time. I'm sure I could have done it myself but I decided to go to a professional hairstylist. There are many ways to start locs but since my hair is so long, two strand twists was the best option. I know a lot people are going to ask me, "but why?" because I know a lot of people loved my loose coils. Here are a few reasons why I did it…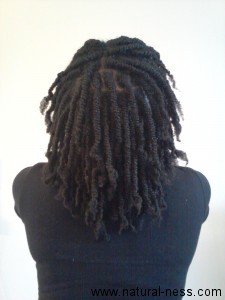 – I'm pretty sure I'm developing carpal tunnel from an excessive amount of typing at work so it's becoming harder and harder for me to do different styles with my hair.
- My hair is long, thick, and kinky and so my hands end up cramping really bad when I'm styling it myself.
- Puffs always give my a headache so I don't want to have to them again but sometimes it's hard to avoid when I'm short on time.
- I don't like other people tugging at my loose coils.
- A relaxer is not an option for me.
- I love how I look in yarn braids and would wear them every single day if I had the time or patience and since everyone thinks they are dreads anyway, why not just dread it.
- Finally, (the only reason I need) it's my hair and this is what I wanted to do so I did it

.
This is day one of a long journey. So, your support is appreciated.
Big thanks to my stylist, Paris, I know it was a whole lot of work and took a lot of patience.