I am so pleased to present another inspiring Global Natural.  This time from St. Maarten.  She sent me so many beautiful pictures, that I had to come up with a creative way to showcase them all (I couldn't choose between them…her hairstyles are fierce). I hope she does not mind me sharing this, but it's just too inspiring not to share…she told me in an email message that she did not really learn how to take good care of her hair until earlier this year. This proves that it is never too late to learn to take great care of your hair!  Now I really need to learn to flat-twist (note to self)!
Please meet Bezalel: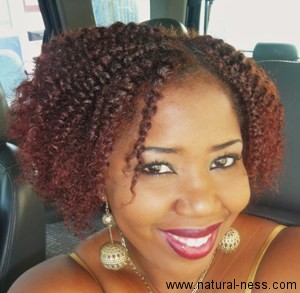 Name:
Bezalel
What country do you live in?
Well I hail from the island of St. Maarten in the Caribbean we are under Dutch Government
How long have you been natural?
Since December 31st 2008
In America, being natural is seen by mainstream culture as rebellious
or unaccepted. Is it the same in your country, or are people more
accepting of natural hair/beauty?
The natural scene here on the island is up and coming but as you said its still a fight to be accepted in your natural state. The negative comments and sometimes looks are the same here as well but overall there are still a wide number of naturals here on the island. As we are in the Caribbean there is a lot of braiding but also weaves as well as relaxed hair we have a variety.
Many ladies I have noticed opted for the bc but then don't go further with it they just keep their hair short. I guess it's because they don't know how to style it otherwise, if they do grow it out they simply have a "ruff" puff or twists or braids……..I honestly have not seen bantu knots or twists outs around at all.
Additional comments regarding your natural hair:
(Note: this was originally sent to me for a New Naturals Showcase feature, but Bezalel graciously let me feature her as a Global Natural instead.  Here's her info as originally submitted)
Date of Last Relaxer: October 2008
Length of Transition: 2 months
Date of BC: December 31st 2008
Favorite Style: flat twistout
Current Routine:
Just taking care of my hair, lots of finger combing, dont like to use combs or brushes. Recently started Henna treatments and I live by my shea butter mixture (sb & amla & olive oil). Do not use heat on my hair, very little use of gel and wash once a week. Oh yeah once every 2 weeks protective styling for a week at a time. That's it in a nutshell 🙂
Web, blog, youtube or fotki link:
http://www.youtube.com/user/Bezaleeltpmi?feature=mhum
Do you live outside of the United States and would like to represent your country? If so please fill out the form here: Global Natural-ness. I will be glad to accept more than one entry from the same country. Let's see what country will be represented the most!If you live in the US and would like to be featured, please check out my Natural-ness in the States page.