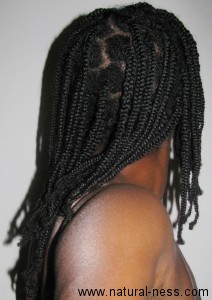 I decided to do a set of box braids in my hair for the first time in a VERY long time.  It took me a while, but here's the completed result.  These were done on moist freshly shampooed hair, using only coconut oil.  I clipped the ends of each braid as I went.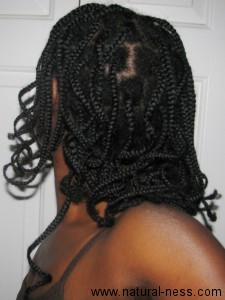 I wasn't very happy with the way the ends sort of balled up on each braid, so I decided to use curlformers to curl the braids.  After sitting in the warm humidity during my daughter's swim lessons, my braids ended up flat within minutes, so I gave up on that idea.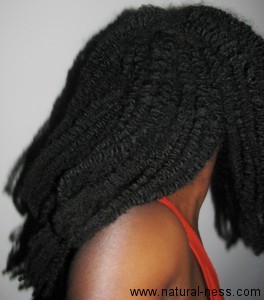 After wearing the box braids for about 2 weeks, I took them down for me and hubby's 12th wedding anniversary.  This is the resulting stretched braid out (stretched using this technique).  After removing the braids, I came to the conclusion that I probably will not be putting box braids in my hair again anytime soon.  After my braids got wet a few times from swimming (even though I wore a swimming cap), they were frizzy and a little hard to take down.  Although braids can be considered a protective style, it doesn't help if the hair is too tangled to remove the braids afterward without some pulling.  Although I liked how the braids allowed my hair to show some length, I will be sticking with two-strand twists which are a lot easier to remove!