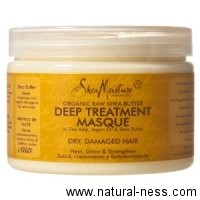 Product Purpose:
Heal, grow and strengthen dry damaged hair
Ingredients:
Deionized Water , Butyrospermum Parkii (Shea Butter) , Argan Oil , Vegetable Glycerin , Emulsifying Wax , Sea Kelp Extract , Panthenol (Vitamin B-5) , Essential Oil Blend , Avocado Oil , Lonicera Caprifolium Flower and Lonicera Japonica Flower Extract (Honeysuckle and Japanese Honeysuckle) , Tocopherol (Vitamin E) , Hyssopus Officinalis Extract , Salvia Officinalis Leaf and Equisetum Arvense Extract (Sage) , Soybean Oil , Daucus Carota Sativa Seed Oil (Carrot)
Product Review:
This review is well overdue because I have been using this product for a while on myself and my daughter.  In fact, I just ran out.  Still, it is a little tough for me to write this review because I have not been blown away by this product.  When I sat down and thought about my hair, and my daughter's hair, as result of using this product, I could not think of much to say.  I don't know if that is a good thing, because for $9.99, I really want to be blown away.  Now to be fair, I have not applied this product and used it under a dryer.  However, the instructions do not say to use it under a dryer.  The instructions say to apply it and leave it in hair for 5-30 minutes, then thoroughly rinse.  It also gives the option to leave in hair and use as frizz-free moisturizing styling cream. I have tried the product both ways.  The results are not bad, but I do not feel that my hair, or my daughter's hair, gets the full deep moisturizing treatment that it needs. I may try this product again, but I'm still in search of a "must have" deep conditioner.  Perhaps one that requires some heat. This is not it.
As always, what works or doesn't work for my hair (or my daughter's) may have another outcome on your own.  If you would like to try this product, it can be purchased at your local Target or Walgreen's store for $9.99.  Or you can purchase it at amazon.com: Shea Moisture Raw Shea Restorative Trauma Masque – 12 oz.