Please welcome Inesa of 4CNaturalHair who was kind enough to share her tips for shampooing and maintaining kinky twists!
Haaaaaay! I am just loving these Kinky twists. I thought that I already knew how to wash and care for my kinky hair in this protective style, but after doing a little research, I was wrong.



Since I will be using natural oils, conditioners and other ingredients on my hair and scalp while in this protective style, I will have to wash the build up off of my scalp. The scalp needs to be clean and free of build up and environmental toxins in order for the sebum to circulate.
How to wash your scalp in KINKY TWISTS:
Items needed:
1- Head band or clips to put the hair up into what would be a puff
2- water bottle
3- Your favorite shampoo and conditioner
First take the head band or your clips and put hair up on top of head as if you were doing a puff. Pulling the sides and back up. Then you will take your spray bottle and add approximately 3-4 inches of water, depending on how thick your hair is. Take your shampoo and add 1 a teaspoon of shampoo into the water and shake to mix and dilute the shampoo. You may notice the water beginning to foam a little, but that is fine. If it is too sudsy add more water.
Next, spray your scalp in between the kinky twists. The aim is to clean the scalp so you do not want it full of suds. Keep spraying all over your scalp. Once you have done the sides and back, then remove your clips or band to get to the crown and or center of the head. Continue to spray your diluted shampoo onto your scalp until the bottle is empty.
You can do this over a sink or in the shower.
*Rinsing option 1- Put on your satin bonnet in the shower and let the cool or warm water run over it removing the diluted shampoo.
*Rinsing option 2- Rinse out your spray bottle really well and then just add cool or warm water to it and put your hair back up into a puff and start spraying the water onto your scalp to remove the shampoo. By holding your head over a sink, you will be able to see all of the dirt and toxins coming out of your scalp. After you have done the sides and back, remove your styling tools (if you choose to) and continue to spray the scalp wherever you have not reached.
Do not worry about your kinky twists, the mixture will drip through the twists from your scalp to cleanse the hair intertwined.
Once you have removed all of the diluted shampoo from your scalp and used up all of the water, you will notice that the ends will be dripping wet, so grab an old t-shirt or your hands and gently squeeze out the excess water.
Last, add your leave-in conditioner to some water (if you choose) and your favorite oil into a spray bottle and spray your scalp and the kinky twists. Spray the twist all the way down to the ends.
How to maintain Kinky twists during the night:
If you have mini kinky twists you might want to pin your twists up into a wrap prior to protecting. If you scalp feels dry, spritz your moisturizing mix or massage your oil onto your scalp prior to wrapping them up…
So wrap your kinky twists in a silk/ satin scarf or a large draw string satin bonnet to help preserve the style at night.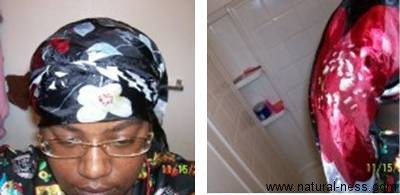 You can tie your knot in the front or back of your head, whichever is more comfortable for you.
How to maintain Kinky twists during the day:
The first thing to do is to remove your satin or silk scarf or bonnet and give your kinky twists a gentle shake to wake them up.
A lot of people keep saying to use an oil sheen spray, but with all of the chemicals in it, I won't. So I just use my moisturizing mixture which consists of distilled water, JBCO,Shea Moisture restorative conditioner, Grape seed oil, and jojoba oil and spritz my scalp and twists if my scalp or kinky twists begin to feel dry, and then give them a gentle squeeze so that the conditioner and oils penetrate the twists. Style and go.
Other oils that you may use – Raw African Shea butter, Olive oil, Virgin Coconut oil.
Other tips for maintaining kinky twists:
* If you have stray hairs that come out of the twists, smooth them down with a twisting cream or gel.
* If your kinky twists become dull, just gently rub your normal natural oils between your hands and run your hands down the kinky twists.
* Be careful when applying an oil to the hair because too much oil can cause the kinky twists to slip out of your hair and clog pores.
* When washing in this style, focus on your scalp, not the twists.
I hope that this post is informative for those kinkie's thinking about getting the kinky twist style put in. If anyone has any other tips for me, please leave them in the reply box. Have a great day!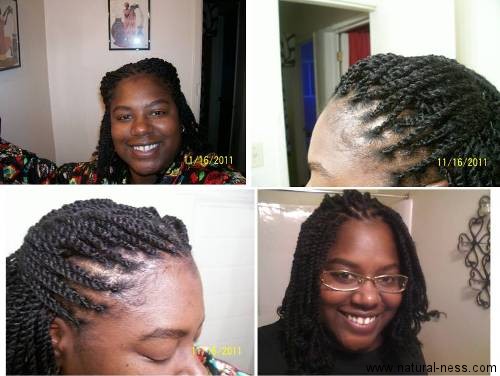 Thanks for sharing Inesa!  Your twists are absolutely beautiful!