I was recently contacted by Heather Von St James, guest blogger for the Mesothelioma Cancer Alliance Blog.  Heather wanted to share her story of survival as a new mom diagnosed with cancer.  I am thrilled to feature her as a guest blogger. It's been six years and Heather is now cancer free! Check out her amazing courageous story below.  Thank you so much Heather for sharing your story and being such an inspiration! ~ LV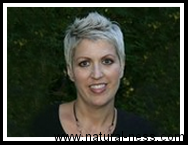 When my husband and I decided to become parents and I was able to become pregnant, I wanted to prepare myself to be the best mother I could be. I gathered all the information I could find on motherhood and good parenting. I read books I could find on related topics so that I could be ready for what life would bring with children in the home. I went for all my prenatal doctor appointments, ate the recommended diet and carried on my role as mother after our daughter was born. Still, I was not ready for the shock of what happened in our lives when she was only three months.
I received a diagnosis for cancer. Here I had a three-month-old baby and I had pleural mesothelioma, a cancer caused by asbestos exposure affecting the lung's inner lining. The next thing I knew, I had to travel to a city well over 1,000 miles from home for specialized surgery and radiation and the chemotherapy treatments followed.
No prior information or education from books can get someone ready for such an experience ahead of time. I had to rely on my inner intuitions and common sense to do the best possible for my baby girl, Lily. I asked my parents to keep her while I had surgery so that her life could remain as stable as possible. Then as I recovered after my surgery, I asked people to come into the home and help me with Lily and assist me with things I could not do for her myself.
The first full year of Lily's life passed while I continued cancer therapy. Since I wanted to keep life on a positive routine for Lily, I spent much time doing things with her as I had the energy. I wanted her to know that she inspired me to live, to keep going. I wanted her to know how much she meant to me, how precious she was. While we did go for walks at the local mall and have play time with other mothers and babies, often we were keeping each other company at home. No matter what I was experiencing I tried to help her feel wanted and keep her life secure and consistent.
Mothers make their children their priority, but cancer patients must put their own health first and get well. I found balancing motherhood and taking care of my cancer was challenging. I am grateful to God for my loving husband who was there for me and Lily when I wasn't my best. He was beside me and took care of Lily when I could not. Lily did not suffer in the least because, when she couldn't have me, she had her daddy.
Currently, six years have passed since that first year with Lily. We continue the tradition we started with our daughter when I was ill with cancer; when one of us cannot take care of her, the other one is there for her. We have not hidden my cancer from her because she lived that year with us while I was fighting the disease. Now she is in first grade, a normal and happy little girl. That first year had a lot of stress and she went through the cancer crisis with us. Even though she was an infant, that first year is a part of her and who she has become. Would I live that year differently if I could? I'm not sure that I would. Cancer seems to carry this absurdity. I am convinced that out of the bad of the illness much good has come.