I'm 5'9" and currently about 148 lbs, my measurements are 34c-27-38. My goal is not to lose any weight but to tone my body. I don't even weigh myself because it's not at all important to me, as long as my pants size doesn't change I'm happy. My focus is on my butt and thighs. I'm a pear shape body type so that makes me bottom heavy. This week I did start to incorporate some arm work because I have flabby triceps.
Everyday at work I do 2 one-mile walks during my breaks. This week at home I worked with weight.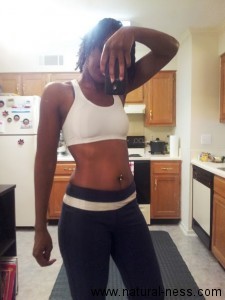 For my arms, I did 3 sets each of…
10 Bicep Curls
10 Shoulder Press
10 Bentover Lateral Raises
10 Tricep Kickbacks
10 Upright Rows
For my legs and core, I did…
20 squats
30 lunges
40 sec planks
50 sec wall sits
100 calf raises
Then I did it again in reverse.