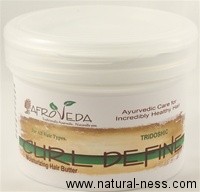 Product Description: Directly from website, "style and define your curls or twists, while naturally 

hydrating every strand and infusing hair with maximum moisture and softness".
Ingredients: Aloe Vera Leaf Juice, Rice Milk, Water, Jojoba Oil, Shea Butter, Coconut Oil, Extra Virgin Olive Oil, Nettle Leaf, Ayurvedic Botanicals of Ashwagandha Powder, Bhringaraj Powder, Brahmi Powder, Amalaki Herb and Neem Leaf; Bay Leaf, Horsetail Leaf Extract, Palm Oil, Glyceryl Stearate (and) Cetearyl Alcohol (and) Sodium Stearoyl Lactylate, (an edible, natural, ultra-mild self-emulsifying wax), Aloe Vera Leaf Gel, Xanthan Gum, Gluconolactone (and) Sodium Benzoate (a natural preservative), and love. Essential oil blend of Sweet Orange and Vanilla.
(Note: This product is preserved with a paraben-free, wide-spectrum cosmetic preservative. Please use within 6-9 months, refrigerate or freeze for longer-term storage )
Product Review: Before I begin this review, I have a confession to make… I was afraid to put this product in my hair in the beginning because it smells and looks like cake frosting 🙂 .  Unlike most of my other products, I did not purchase this product myself.  It was sent to me by a very good friend of mine for Christmas.  I was happy to receive it, but the initial scent and texture threw me off.
When I finally decided to use it, I was pleasantly surprised.I first used it back in January during my birthday weekend.  The consistency is a bit thick, but if you rub it between your hands it sort of melts into a lighter cream.  Here are pictures of my hair after using this product: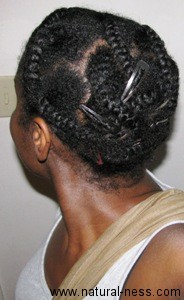 This picture was taken back in January.  I applied the AfroVeda to each section of my hair before I braided it up as shown.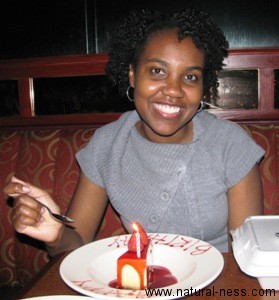 This is me in New Orleans celebrating my birthday back in January.  This braid-out is the result of the AfroVeda and the braids in the picture above.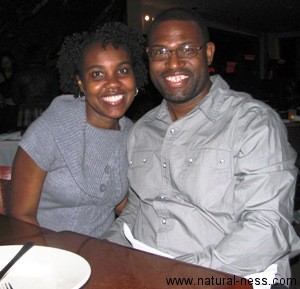 I just thought I'd throw in one more picture showing the braid-out.  I was pleased with the way the braid-out came out.  It was highly defined and very soft to the touch.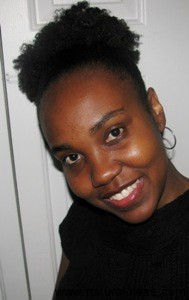 Here's my latest venture in using this product.  I decided to brush this braid-out back into a puff.  Again, I used AfroVeda, applying it to each section of my hair before braiding it up.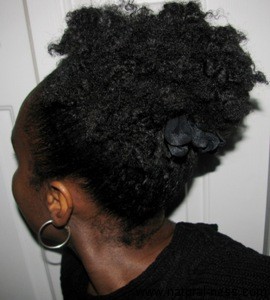 Here's another view of my AfroVeda puff.  The front, sides and back of my hair was smoothed down using Eco Styler Gel.
Here's a close view of my puff.  Overall, I like the AfroVeda curl define as a braid-out aid.  However, if I had to compare it to the Goddess Curls Gel, I'm going to go with the gel.  Why?  Well the Goddess Curls gel is cheaper at $7.99 (at Target, no shipping) vs. $15.50 + shipping  for the Curl Define.  Also the Goddess Curls Gel makes my hair shinier, which I like.  I will continue to use the AfroVeda curl define from time to time, because I do like the way it makes my hair feel, but I am not sure if I would repurchase it once I run out. I am very grateful to my friend, L.L., for sending this to me and giving me an opportunity to try it out!  Thanks again girl!
Please check back for further thoughts on this product.