Afro w/Headband (2 Year Old)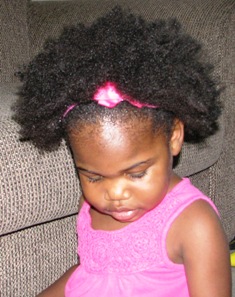 When I have my hair in a braid-out or twist-out, it can last for weeks.  However, my daughter's only last about a day.  This is the next day after my daughter wore the braid-out, seen here: braid-out
. I finger styled and gently picked her moistened hair until I was satisfied with the shape (I love the messy afro look).  I then applied a small amount of ORS Olive Oil Smooth n Hold Pudding* (my review coming soon) to the front of her hair, gently brushed it and finished it with a headband.
My daughter is a very active little girl, so this style did not stay cute for very long.  It was a matter of minutes before she started rolling around on the floor and flattening the afro

  Let's just say that I may have to wait until she's a bit older before she gets to really sport an afro.  Well, at least I got a chance to take a few pictures!
* You can currently read reviews of the ORS Pudding here:Organic Root Stimulator Olive Oil Smooth Pudding 13 oz. Tub