I've been in love with African Hair Threading for a few months now.  I've mostly been experimenting with various styles.  Here is the latest which is just a variation of regular pigtails.  Check it out: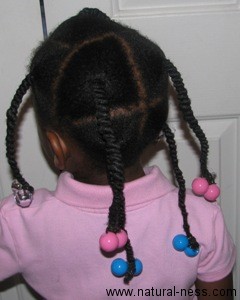 Here's the back of the style.  This was done on freshly washed hair using products by Cara B Naturally and coconut oil.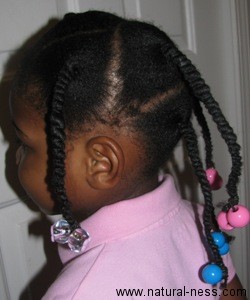 The Ghana Plaits are sometimes stiff so I added balls to the ends of her hair to weigh the plaits down.  However, I do not recommend using the balls often, because they are sometimes tough to remove from the end of the hair without them getting tangled.  This may be the last time I use them.
Here is the other side of her hair.  The front of her hair is in three plaits, while the back is in four.
Here is a view of the three front plaits.  Click here to check out my other African Hair Threading styles.