Still using the the tutorials shown on the GirlsLoveYourCurls You Tube channel, I created a protective style using the African hair Threading (Ghana Plaits) method.  Once again, I cannot express how easy it is to complete this style.  I'm tempted to experiment with a cornrow like style using thread (Is this even possible? It never hurts to try!).  Anyway, here is what my last Ghana Plait journey looked like: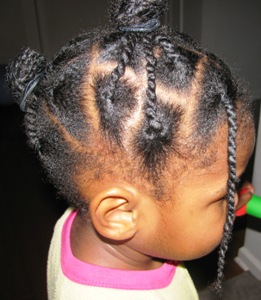 I used the technique shown in the GirlsLoveYourCurls Protective Style video #1 to complete this style.  I decided to leave two of the plaits out for bangs and I made one bun at the top and one at the back instead of side by side as shown in the video.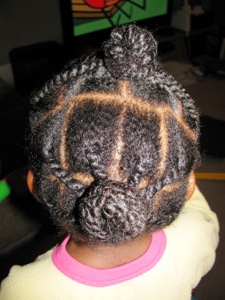 Here's another view of her top and back bun.  I used Cara B Naturally's leave-in conditioner, rubbing it all over her hair, after washing it with Cara B Naturally shampoo. Once again, I used Coconut Oil on each plait before threading them.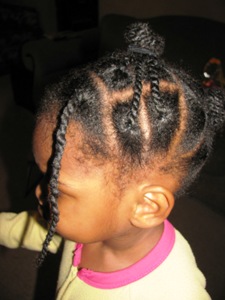 Once again, her hair was moist before I began this style.  Next time, I think I'll try this style on dry hair.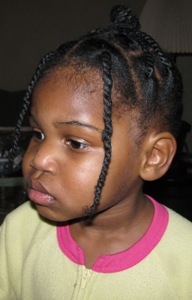 The very front of her hair was divided into two large size sections in the front.  Two threaded plaits were completed for bangs.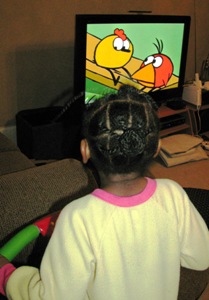 Using much bigger sections than last time, this style took a little over an hour and a half.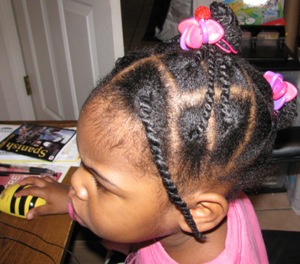 The next day, I added accessories to decorate her two buns.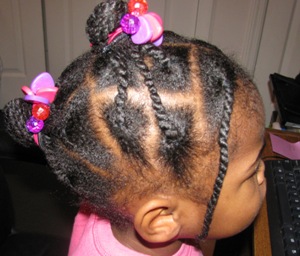 So far, my daughter has been wearing this style for a week and it still looks decent, so I'm going to try and leave it in for another week.