I was checking out one of my favorite girl hair sites, Beads, Braids & Beyond, one day.  On the site was a hair washing video from GirlsLoveYourCurls on youtube.  I went to check it out and ended up staying on the site for hours.  I believe that I watched every single video on the channel that day.  One of the videos really caught my attention.  It was the one seen here: http://www.youtube.com/user/GirlsLoveYourCurls#p/u/5/nG2Kn2GznMY on African Hair Threading.  I've watched this video several times because the technique is so interesting to me.  There are other videos on the site that shows how to do protective styling using this technique.
Anyway, I decided that I would give it a try, so I went to Sally's and bought some weave thread.  The thread was less than a dollar.  I came home, watched the videos one more time and decided to give it a try.  Here are the results: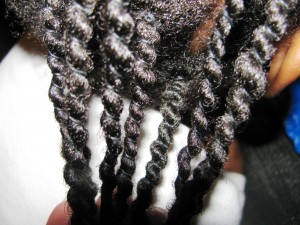 This is what the threaded plaits looked like close up.  I was a bit intimidated by this technique before I started, but I was surprised at how easy it was to do.  It's actually easier than braiding! (click this picture to see the enlarged version)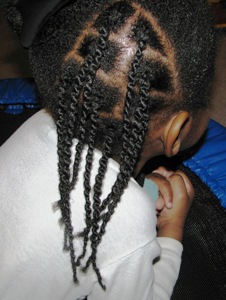 I washed and shampooed her hair before beginning.  I applied Cara B Naturally's leave in conditioner all over her hair right after washing it using Cara B Naturally's shampoo.  I them applied Coconut Oil to each plait before threading.
The first thing I noticed after completing the first few plaits was how much longer her hair was when compared to her braids or twists.   This technique eliminated all of the shrinkage that I usually get when I braid or twist her hair.  This would be an incredible hair stretching technique (I may have to try it on myself).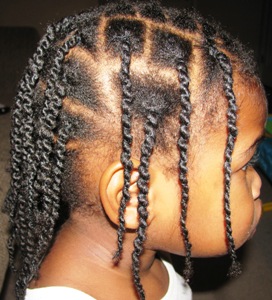 Here is the completed hair from the side.  I did not initially tend to do her hair in such small sections, so it took much longer than I anticipated.  Our tradition whenever I do braids or twists in her hair is to watch Princess & The Frog (which is 1 hour, 38 minutes long), which we both love by the way.  Well, I still had a ways to go after watching the whole movie, so I'd guess that this style took about 2 and a half hours (with breaks of course).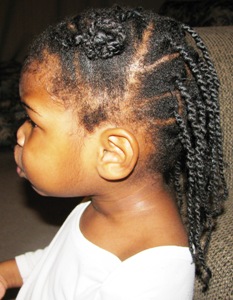 Here's the other side.  I did a few cornrows (I'm still terrible at them) at the top with the African Threading at the ends.  I then used more thread to create a side bun using the technique shown in one of GirlsLoveYourCurl's other videos.  See that small section of hair right above her ear?  I never know what to do with that.  Maybe if my cornrow technique was better I could catch that hair in her cornrow 🙂  I am cornrow challenged, but that's ok, I'm learning.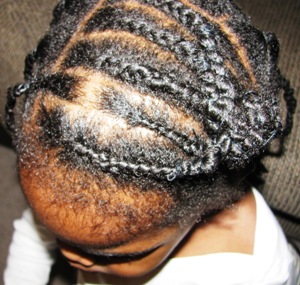 I should probably leave this picture out, but I'm committed to showing my mistakes as well as my triumphs.  Before I started the top of her hair, I had a plan to do sort of an alternating part type of thing, but for some reason it didn't happen, so I had one cornrow parted differently than the others.  I didn't have the heart to make her sit while I took the cornrow back down, so I just left it.  Is it too terrible and noticeable?  It's OK, be honest 🙂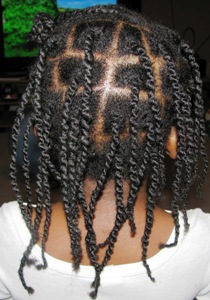 Back view.  Next time I will try this technique with bigger plaits.  I will probably try the protective style shown on the GirlsLoveYourCurls video.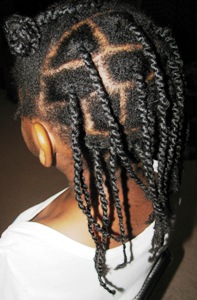 So ladies (and gentlemen if there are any checking out the site), what do you think of my first attempt at Ghana Plaits?  I could use the feedback.  If you would, please leave comments or criticisms in the comment section below.  Thanks!