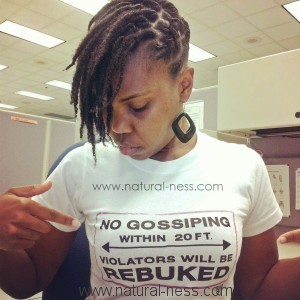 Contact Coco
I started my journey to naturalness at the age of 25. I had my last relaxer in August 2005. I kept my hair pressed as I transitioned. By the end of 2006 I was completely natural.
After 3 years I experienced a temporary lapse in judgment and in March 2009 relaxed my hair again. With the return of all the breakage and dandruff I hadn't seen in 3 years I realized it was a mistake and refused to put relaxer on my hair again. I transitioned for about 6 months and chopped it all off again.
After making the decision to remove the chemicals from hair, in 2010 I started paying more attention to what I put in my body as well. After being diagnosed with Endometriosis in May 2005 I eventually started having unbearable pain everyday. After much research I discovered that cutting out dairy, wheat, and red meat helped me to relieve the pain.
Not only did the change in eating habits help with the endo pain, I also ceased to suffer from migraines. I still have the occasional headache but not the severe migraines I have experienced all my life. I also stopped getting sick as much.
Finally on May 24, 2013 I grew tired of the maintenance required to upkeep my natural hair and started my loc journey with no regrets. That journey continues today.
You can view my original journey through pictures via YouTube, http://www.youtube.com/watch?v=uyPq7ws9FlY.