1st Attempt at Yarn Twists (3 Year Old)
After I finished shampooing my daughter's hair in the video I posted here, I braided it into about 8 braids in order to stretch her hair out.  The next day, after her hair had dried, I decided that I wanted to try something new. My sister Coco had just posted about her newest set of yarn twists so I decided that I would try yarn twists on my daughter.  This is a big deal, because I never thought that I would like yarn twists on my daughter because she is so young.  I usually do not like any type of hair extensions on a young child, but I decided to give it a shot anyway.  However, I must say, I love the way the yarn twists turned out.  Check them out: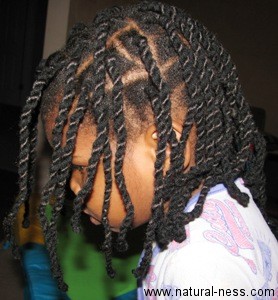 Like the title of this post states, this was my first attempt at doing yarn twists.  I used the tutorial created by Coco (I'll post video below) and was pleasantly surprised at how easy the yarn twists are to do.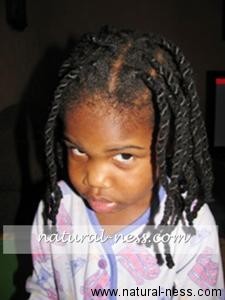 It took me two days to complete these twists (only because I do not like making my daughter sit for too long).  I completed the back of her hair first on day 1 and completed the front the next evening.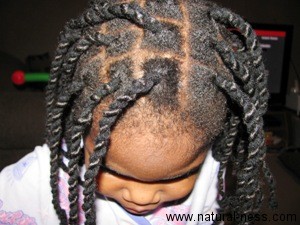 As you can see, I parted her hair into fairly big squares, which quickened the process. This size works well and if I ever decide to revisit this style, I will again go for the larger parts.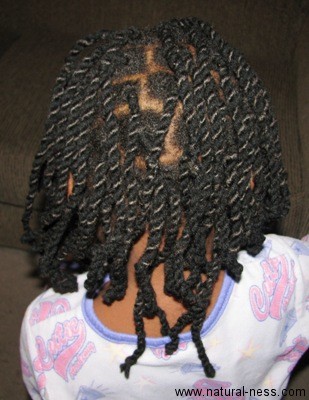 The video below will show the right type of yarn to use as well as the length of the pieces that you'll need. As you can see in this picture, I cut the yarn about an inch or two below her natural hair length and tied off the ends.  She has worn this style over two weeks already and the twists still look good. I'll post some of the styles that I've tried with the twists in the next post.